Print Leaflets and Menus for cheap in Northern Ireland!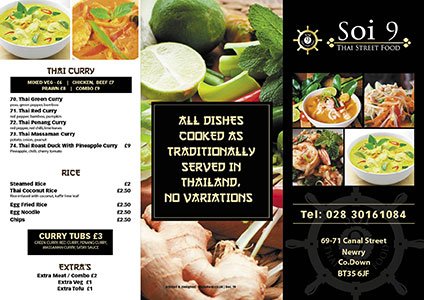 Low cost high quality takeaway menu leaflets delivered to Northern Ireland. Leaflet design service available.
Restaurant menus can be designed and printed for cheap yet with a great look. We specialise in restaurant menu design and printing. Our clients are from all over the UK. We provide a competitive service to restaurants and takeaways in Lurgan, Belfast, Lisburn, Banbridge, Newry and all over Northern Ireland.
Order Online
Request a quote
Menus, Folded leaflets design and printing service
We are specialist menu-designers strictly focused on designing operational menus, which is cost worthy. Our menu design team has the best combination of art and science, to turn your menu into a designer product yet very effective for your restaurant business.
High-resolution images are appropriately used in menus to bring in dimensions to your restaurant menu. Menu Lane have an extensive collection of food images and we also have our own photography team to take photographs of the food you serve in your restaurant if you want to keep that personalised touch to your menu.
Our designers always keep a one-to-one contact with our clients to design the menu to reflect your restaurant. We work ONLINE along with you on your menu printing process and you would never feel the distance!
Printing Table menus, Window menus, NCR bill- books, Business cards, Flyers, Banners, Posters, and other restaurant marketing materials for restaurants for low-cost is what Menu Lane is about.
For restaurant's online marketing Menu Lane designs specialised websites that can be browsed with latest devices and optimised so that it can be found by the search engines. Websites for the culinary starts from single page to multiple page and e-commerce service.
Menulane highly regards your spending, so we only design and print menus to work at its best!